Popular Welding Robot Manufacturers In The United States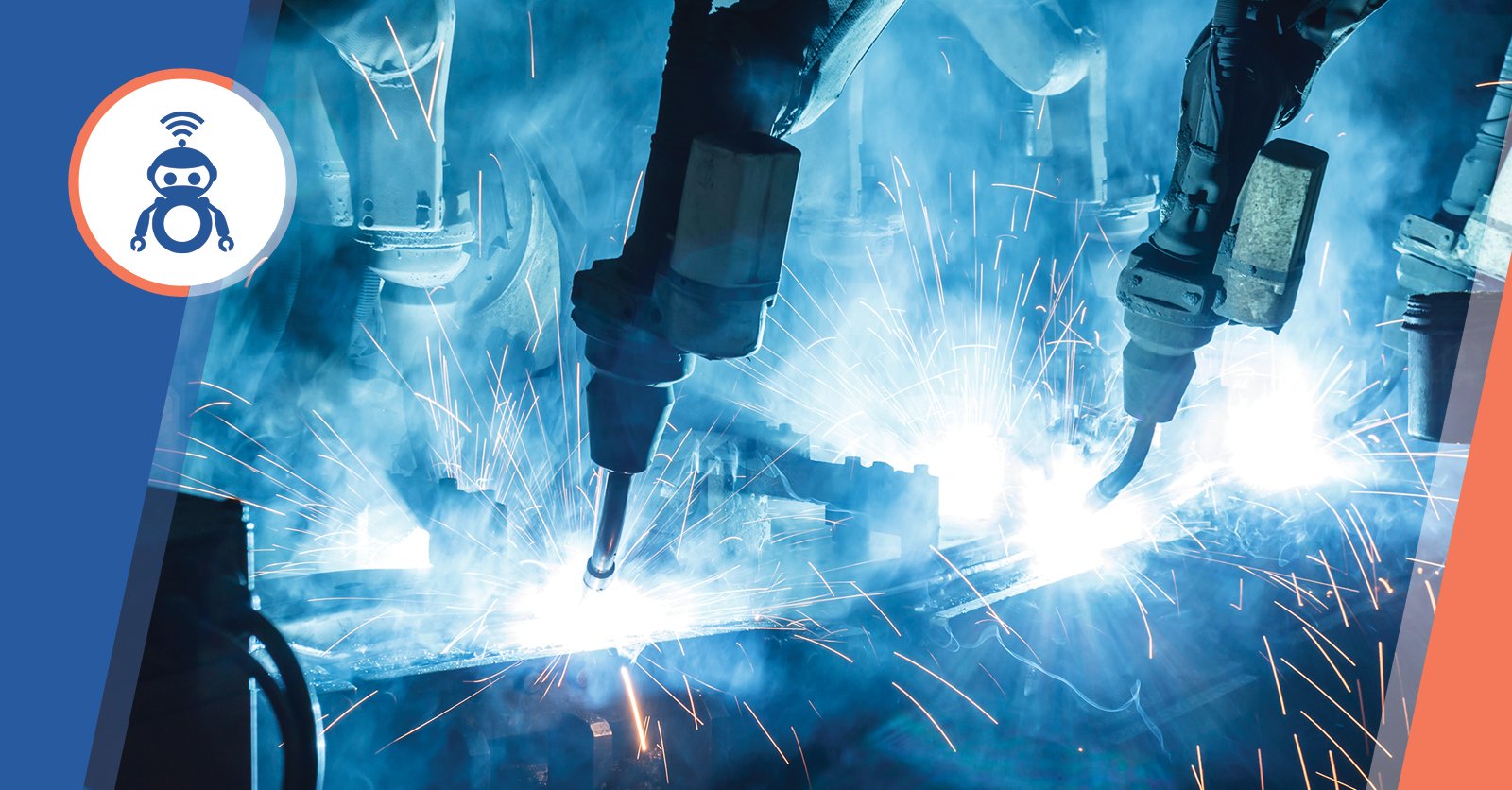 As a manufacturer with welding applications, you are likely aware that robotics and automation are becoming a must in your industry.
However, the broad range of options and potential suppliers can be overwhelming and make it difficult to begin your search for automation solutions. Whether you're looking for a simple weld cell or a fully-automated, more complex one, understanding the marketplace can give you the confidence you need to make the right choice.
This article describes the current landscape of welding suppliers and robot brands to help you get started with your next automation project.
Most Popular Welding Machine Brands Offering Robotic Welding
Welding machine brands offer a wide array of products and services for their customers. From cheap consumables to complex automation equipment, these brands offer solutions for manufacturers all across the welding automation spectrum.
Miller

Miller Electric Mfg. Company is a US-based supplier of welding equipment, consumables, and automation solutions. Miller is a staple of the welding industry and is often synonymous with the color blue. When someone mentions "blue," welders think Miller.
Specialty
Miller produces MIG, TIG, engine-driven, and stick welding machines primarily focusing on small to large industrial-use applications. Miller excels in:
Top-quality welding equipment for industrial consumers
Broad product coverage for all welding types
Great customer support
Strong local supplier presence
Powerful Automation Solutions
The lack of support for hobby-grade equipment is one of the few weaknesses of the Miller lineup. They tend to provide high-quality, industrial-grade equipment, and this is reflected in the higher price point for Miller brand products.
Market Share
Miller Electric primarily serves the US industrial market and is the major player. A majority of this revenue comes from the sale of welding equipment and consumables.
Industries Served
Miller Electric positions itself as a premier provider of welding equipment for industrial applications. Primary industries include:
Aerospace
Automotive
Construction and fabrication
Heavy equipment
Manufacturing
Railroad
Marine
Transportation
Work Trucks
Farm and Ranch
Best Selling product

Miller's MIG and TIG welding machines are extremely popular and are considered to be some of their best products. They are high-quality machines that are easy to use and offer great control.
Lincoln Electric

Lincoln Electric is another industry giant. Easily identified by their red branding, compared to Miller's blue, Lincoln is the supplier of choice for welding equipment, consumables, and automation solutions for global manufacturers and high-end prosumers alike.
Specialty
Lincoln Electric is another premiere welding equipment supplier that offers broad product support for almost every application. Additionally, a line of lower-cost educational equipment supports their popular education programs. Lincoln Electric's strengths include:
Industry-leading quality for industrial consumers and educators
Great product support and customer service
Broad support for all welding equipment
Strong educational support
Great regional and international supplier network
A broad range of automation solutions
While Lincoln Electric doesn't place a strong focus on hobby-grade equipment, they do have some lower-cost options for the education, high-end enthusiast, and prosumer market.
Market Share
Similar to Miller, Lincoln Electric focuses on high-quality products for industrial applications. In the United States, they hold 2nd place in market share.
Industries Served
Lincoln electric is the preferred choice for welding manufacturers in the US and internationally. Common industries include:
Automotive
Metal Fabrication
Heavy Industries
Maintenance and Repair
Offshore
Oil and Gas
Power Generation
Marine
Construction
Best Selling product

Lincoln Electric sells many quality products, but few are better than their arc welding machines. As a pioneer in arc welding, Lincoln Electric has been at the forefront of welding technology, and this is reflected in the strength of its welding products.
ESAB

ESAB, like the others mentioned on this list, is a manufacturer of high-end welding equipment, automation machinery, and safety equipment.
Specialty
ESAB provides world-class arc welding and robotics solutions. They also offer digital performance products for traceability and quality assurance purposes. Other strengths include:
High-quality product offering
A broad product line with some unique offerings
Strong international presence
Lower-cost solutions compared to Lincoln Electric and Miller
The most automation solutions of the three
Market Share
ESAB has a US presence, but a stronger foothold internationally. Their welding equipment, PPE, digital, and automation solutions result in the third place for the United States market share.
Industries Served
ESAB maintains a strong focus on large manufacturing, heavy industries, and energy production. Common industries include:
Liquid Natural Gas
Repair and Maintenance
Wind Energy
Petrochemicals
Pipeline Manufacturing
Mobile Heavy Machinery
Shipbuilding
Best Selling product

Like Miller and Lincoln Electric, ESAB produces excellent welding equipment. However, the breadth of their automation and digital solutions is unique among other welding OEMs on this list.
Fronius

The Austria-based supplier, Fronius, is an expert in welding, solar, and battery technology. Welding is their specialty, with over 1000 patents in the technology.
Specialty
Fronius is the most unique welding supplier on their list. They produce power units for all welding types and robot sensing technology such as touch probes. Other offerings include:
Power units and consumables for all welding types
Unique welding robot sensing technology compared to other welding suppliers
Most extensive line of welding automation machines
Data-centric industry 4.0 welding solutions
PPE
Market Share
Fronius' strong welding equipment and automation lines have allowed them to compete with the industry's heavyweights. They can claim the 4th place in the United States market share.
Industries Served
While Fronius supports a broad range of industries across all of its business units, its welding team focuses on:
Automotive
Food and Beverage
Heavy Equipment
Power
Oil and Gas
Best Selling Product

Fronius is a market leader in innovative welding technology. The best example of this might be the TransSteel line of power units. They're unique because they are multi-process welders capable of MIG/MAG, MMA, and TIG in one device.
Most Popular Robot Arm Manufacturers Offering Robotic Welding
Every major robot arm supplier provides welding options for your welding automation applications. Each brand has strengths and specialties and particular industries of focus. For each end-user, there are welding robot manufacturing brands that can be a good fit. Let's look at a few common options.
FANUC

FANUC, a Japanese robotics company, is one of the US's most popular options for welding applications. Their lineup includes a wide selection of welding robots, CNCs, and purpose-built machinery.
Specialty
FANUC's greatest strengths are its wide range of industrial and collaborative welding robot options. Additionally, their extensive supplier and integrator network gives them a strong local presence–an important factor for end-users deciding which brand to choose. Other strengths include:
Strong Customer Support
Quality Construction and Performance–but You Have to Pay
Ease of Use
Competitive Cost
Market Share

FANUC is one of the most dominant robot brands in the world. Their strong technology, quality parts, and the sheer volume of sales net them an estimated market share of 17.5%.
*The United States market share for robotic welding is hard to define.
Industries Served
FANUC sells more robots than any other robot OEM in the world. Common industries for FANUC include:
Aerospace
Automotive
Wind Energy
Metal Fabrication
Job Shops
Construction
Oil and Gas
ABB

While it's a huge juggernaut across a variety of market segments, ABB's robotics efforts are no second thought. They are one of the biggest suppliers in the industry, and their excellence in robotic welding technology is evidence of their focus in this area.
Specialty
ABB's best strength is its number of options and configurations in their welding robot catalog. They offer the broadest range of reach and payload capacities on this list–even producing a welding robot capable of lifting over 600 kg. ABB robots also provide the following benefits:
High Production Quality
Industry-Leading Performance Characteristics
Capable Weld Cell Offering
Strong Training Network
Extensive OEM Integration and Support Services
Market Share

ABB is among the most popular choices for manufacturers seeking welding robot solutions. Worldwide, we can say that ABB commands an estimated 13.5% industrial robot market share in all industries.
*The United States market share for robotic welding is hard to define.
Industries Served
ABB has experience with the broadest range of industries through its expansive portfolio. Their robots are commonly found in welding applications globally. Common industries of focus for ABB include:
Automotive
Aerospace
Oil and Gas
Petrochemical Processing
Heavy Industries
Construction
KUKA

KUKA is a robot manufacturer that produces industrial and mobile robots, advanced software systems, and automation machines. Their famous orange branding is unmistakable in manufacturing facilities across the world.
Specialty
KUKA makes world-class robots, make no mistake. However, their most impressive product line is their advanced software systems. KUKA is a market leader among its competitors in simulation software, deep learning systems, and emerging technologies such as augmented reality.
Market Share

The German manufacturer, KUKA, has a strong position in the global marketplace with its great product line and strong branding. KUKA boasts an estimated 13.5% market share worldwide in all industries.
*The United States market share for robotic welding is hard to define.
Industries Served
Kuka robots serve a broad range of applications and industries. Markets of focus for this supplier include:
Automotive
Electronics
Healthcare
Consumer Goods
Metals
Plastics
Entertainment
Energy
Yaskawa Motoman

Japan is a world leader in robotics, so it's fitting to begin this list with the top welding robot OEM in Japan: Yaskawa Motoman. Motoman produces a fleet of individual welding robots up to full welding robot work cell solutions. Additional offerings from Motoman include:
Robot positioners
Headstock/tailstock units
Through-arm components
Welding packages from Fronius, Lincoln Electric, Miller, OTC, and SKS
Sensing technology from touch probes to vision systems
Simulation software
Specialty
Motoman offers a broad range of welding robot solutions. However, what stands out most is their unmatched customer support and strong regional presence globally. Other strengths include:
Ease of Use
Competitive Price
Strong Free Customer Support and Warranty
Industry-Leading Quality and Reliability
Excellent Custom-Engineered Solutions
Offers Collaborative Options
Market Share

Yaskawa Motoman has a broad global footprint in the industrial robotics market. They maintain an estimated 12% market share in industrial robots worldwide. Over ¼ of their revenue comes from sales in Japan.
*The United States market share for robotic welding is hard to define.
Industries Served
Motoman's robotics solutions can be found in various industries across the world due to their popularity. Popular industries include:
Heavy Industries
Oil and Gas
Metal Fabrication
Automotive
Aerospace
Construction
Marine
Universal Robots

Universal Robots (UR) is a relatively new robotics company based in Denmark. Focusing exclusively on collaborative robots, this manufacturer is a world-class market leader in this emerging technology.
Specialty
UR specializes and solely focuses on collaborative robotics. Where they lack a broad first-party offering of peripherals, they fill in the gaps with strong 3rd party relationships with integrators, suppliers, and OEMs–like Hirebotics with their Cobot Welder. These relationships allow UR to offer turnkey solutions for common cobot applications.
Market Share
The Danish supplier is a force to be reckoned with in the cobot market. UR commands an eye-watering 40% market share in the collaborative robot market.
*The United States market share for robotic welding is hard to define.
Industries Served
UR serves many industries thanks to the flexibility of its cobot platform. Common industries include the following:
Automotive
Aerospace
Metals
Food and Beverage
Pharmaceuticals
Electronics
Packaging
Retail Manufacturing
Plastics
Panasonic

Panasonic is a Japanese-based consumer and industrial electronics manufacturer. Panasonic produces a much more focused line of robots compared to other suppliers on this list, opting for material handling and welding robots.
Specialty
Panasonic's specialty is welding robot systems. Due to their narrow lineup of robot types, they can focus on creating great solutions for their specialized applications. Panasonic offers individual welding robots up to fully engineered solutions.
Market Share

Because of its limited lineup, Panasonic doesn't have the same level of revenue as other market competitors. Panasonic has an estimated 4% market share in the industrial robotics sector.
*The United States market share for robotic welding is hard to define.
Industries Served
Pansonic primarily serves a few select industries with their lineup of industrial robots:
Metals
Food & Beverage
Logistics
Plastics
Electronics
Popular Robotic Welding Solutions Providers in the US
You have plenty of options when it comes to sourcing welding robots. Solutions are offered by integrators, solution providers, welding equipment manufacturers, and the OEMs of the robots. Each of these groups offers substantial benefits depending on your situation and requirements. We will focus here on pre-engineered cells offered by the main provider categories.
Robot Arm Companies Selling Welding Robots
Robot OEMs have the most experience with robot technology. They specialize in integrating their robots in various applications–welding included. You will tend to find better price breaks on the welding robot hardware here as it is the primary sale for this group.
Support for the welding equipment and peripherals will vary here from company to company. Some won't have many options for weld cells or tooling, while others have a full suite of solutions and options with plug-and-play support for various welding equipment brands.
Let's take a look at some major robot manufacturers and their pre-engineered welding cell product lines: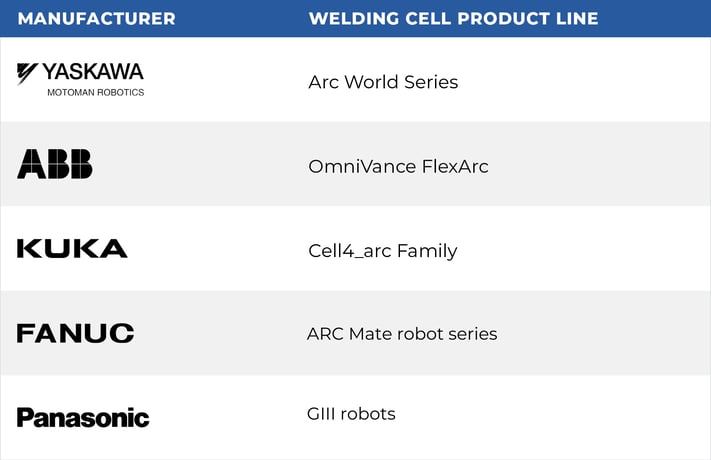 Link: ArcWorld Series - OmniVance FlexArc - Cell4_arc Family - ARC Mate robot series - GIII robots
Additionally, robot OEMs also have the best training options available for you to familiarize yourself with the technology. This can be an incredibly valuable resource for those new to operating welding robots.
Robot OEMs can struggle in scenarios where custom solutions are required. This might include integrating the welding robot into a novel welding application or integrating it with competing technology. OEMs tend to mitigate risk as they are highly aware of their brand reputation and lean towards standard applications.
Welding Equipment Suppliers Selling Welding Robots
Welding equipment suppliers have emerged as a new source for welding automation solutions. Traditionally a secondary concern of the overall welding package, welding providers now offer standard solutions ranging from simple weld cells to made-to-order solutions. Typically, welding equipment suppliers pair their solution with a single brand–so be sure to determine brand compatibility with your company at the onset of your search.
Welding equipment suppliers are more in-touch with the welding process than OEMs and integrators. They excel in offering standard welding automation solutions for a broad range of welding tasks and cell configurations.
Welding equipment suppliers can command strong price efficiencies on the welding equipment they manufacture as a part of the solution. It's common to find service agreements around the welding equipment as a part of the overall package–reducing long-term ownership costs (See How much does a Robotic Welder Cost?).
We gathered some welding equipment provider solutions in this table: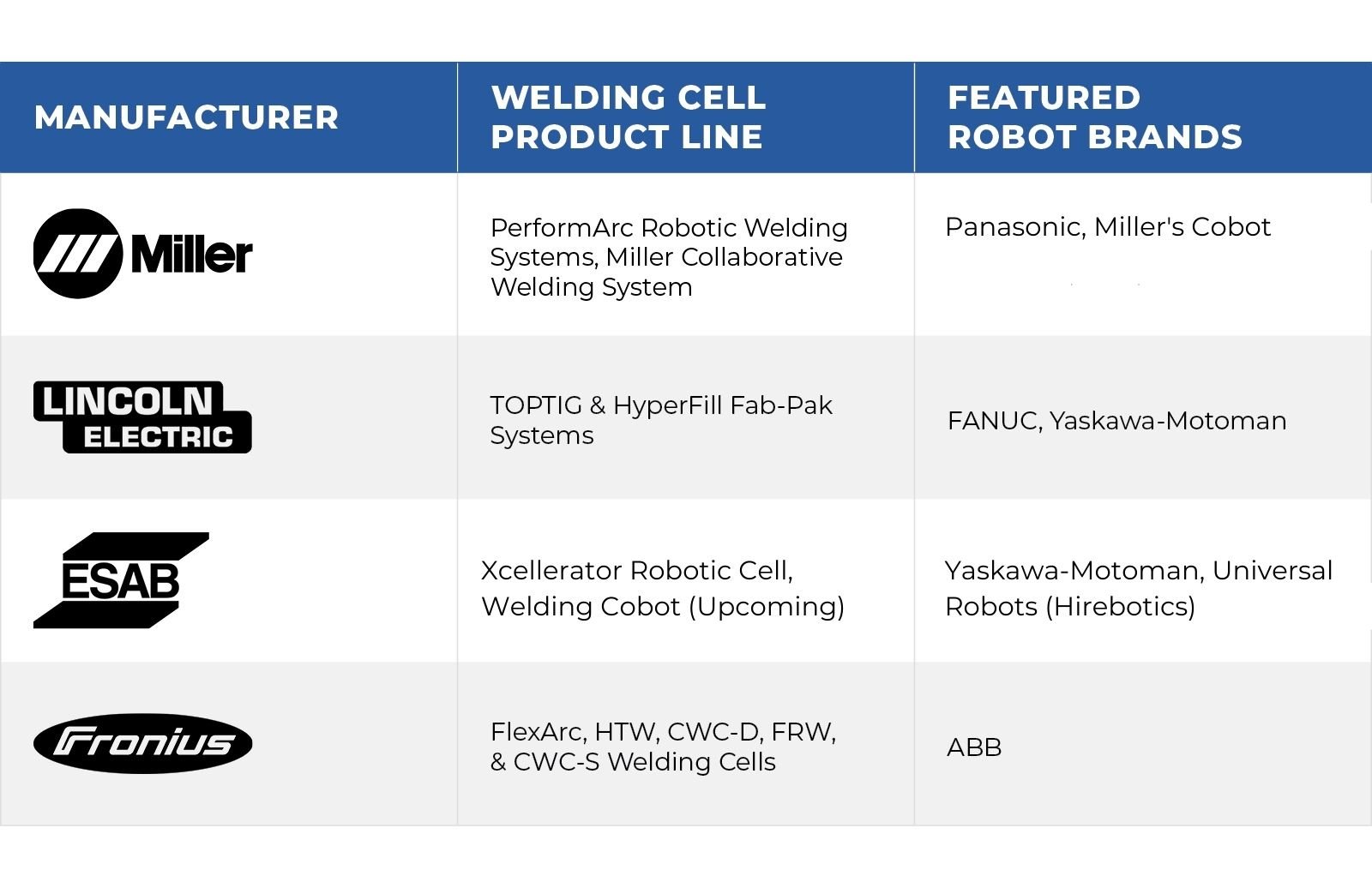 Links: PerformArc Robotic Welding Systems - Miller Collaborative Welding System - TOPTIG & HyperFill Fab-Pak Systems - Xcellerator Robotic Cell - FlexArc, HTW, CWC-D, FRW, & CWC-S Welding Cells
However, welding suppliers will be limited in their ability to offer custom solutions. They may have limited, cost-effective access to additional peripherals that might be required for complete custom solutions, such as special safety equipment and secondary automation control systems. Standalone and standardized systems tend to be the sweet spot for these suppliers.
Integrators and Solution Providers Selling Welding Robots
Integrators and solution providers are a group of third-party suppliers that are official network partners of the robot manufacturer. These companies tend to have a local or regional scope and a broad range of portfolio options. Integrators tend to have flexibility with integrating your favored robot brand with any welding package. Solution providers will often have a packaged, pre-engineered solution.
This group often differentiates itself from other providers by offering unique value-add solutions to their customers. Examples include special software packages, easy-to-use programming interfaces, mobile apps, custom packaging, etc. These are solutions you often won't find at the manufacturer level. (See Robotic Welding Programming) Here is a list of some prominent providers in this category: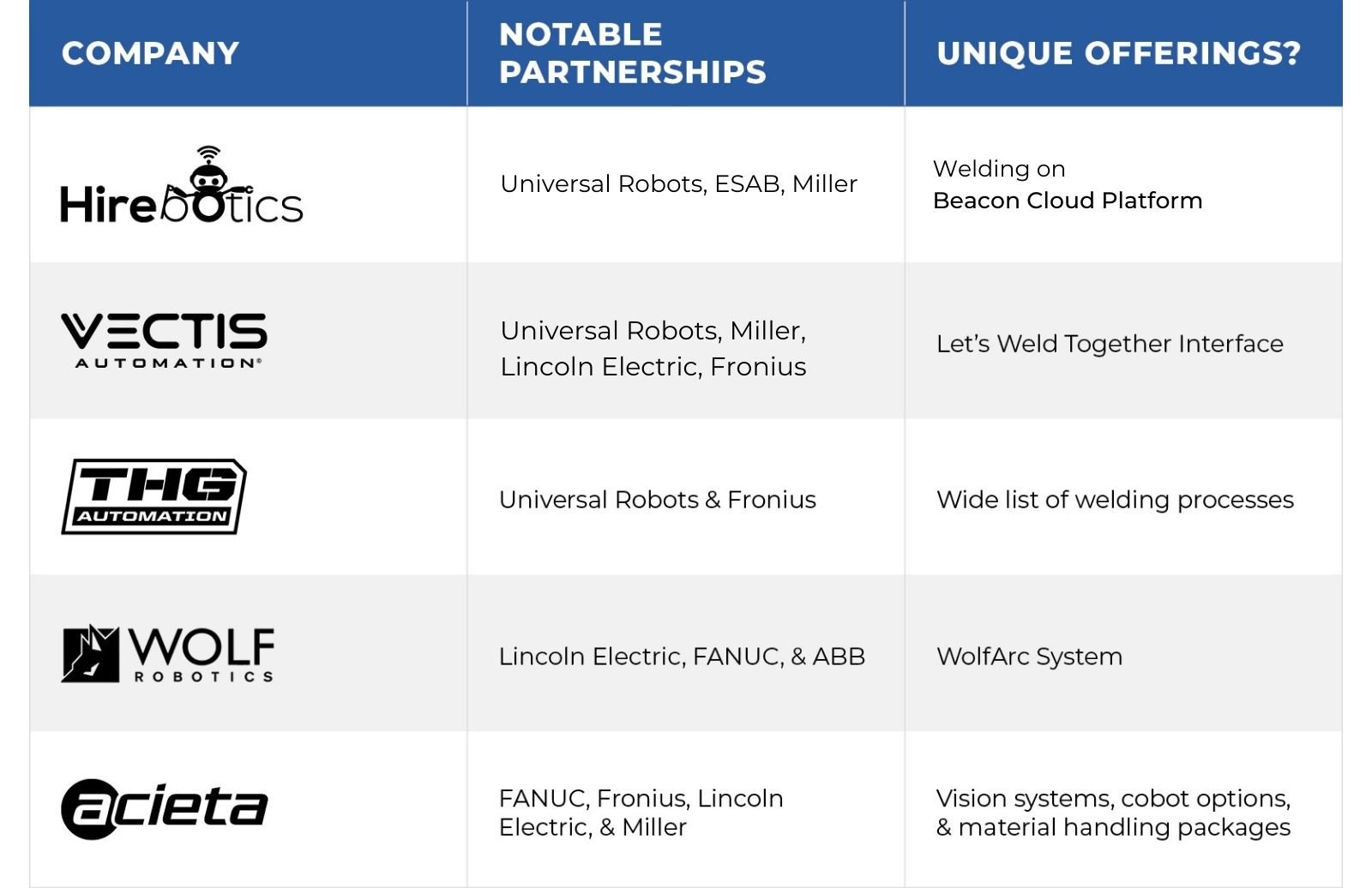 Links: Hirebotics - Vectis Automation - THG Automation - Wolf Robotics - Acieta
Want to produce more with the welders you already have?

Get in touch

with Hirebotics today.