How Cobot Welder's Ease of Use Translates to More Productivity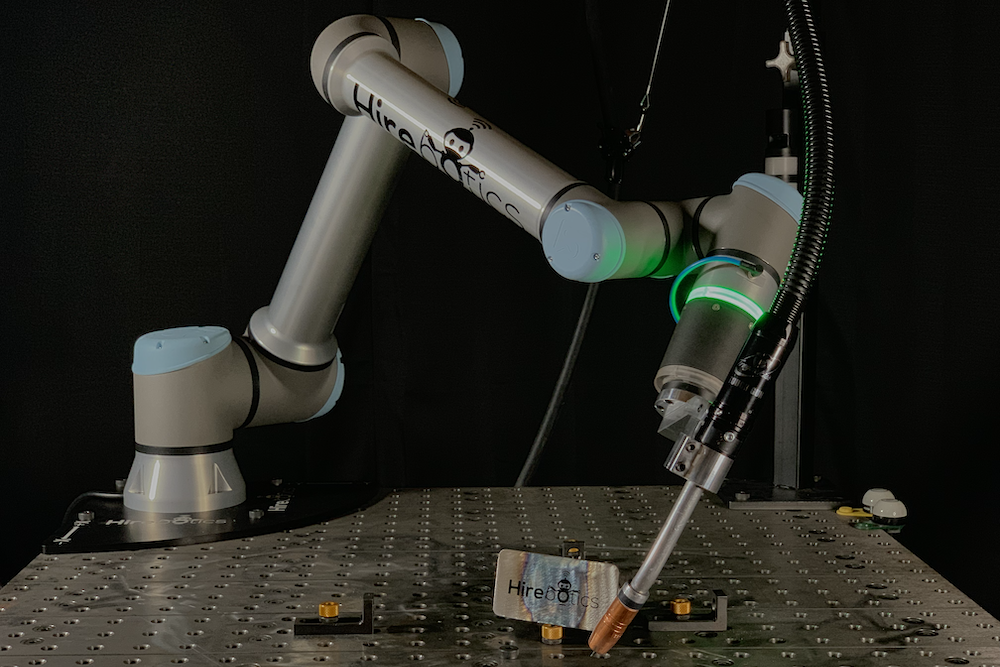 Are you looking for a cobot to bridge the gap for your welding needs for automation? Do you want your welders to be able to use the automated welding solution right away? Then let us introduce you to the Cobot Welder From Hirebotics.
Why choose the Cobot Welder from Hirebotics
There are many collaborative robots out there for you to choose from. But why should you pay particular attention to the Cobot Welder from Hirebotics?
The Complete Package for Easy Deployment
The Cobot Welder comes complete with everything that you need to start welding. The package includes all the necessary hardware and software for a fast and easy implementation on your plant floor.
The package uses the most renowned collaborative robot on the market, the Universal Robot UR10e. The Cobot Welder will come already assembled with the Miller welding system (Miller Invision MPa 352 welder and S74 feeder) and with a welding table ( 32" x 48").
Hirebotics did also develop their Smart Puck device that is installed on the robot flange. Its use is to teach your Cobot Welder to weld anything without touching the teach pendant. You can then create weld waypoints with two buttons; use the green-lighted button to move the arm in freedrive and the blue-lighted button to record the position. Easy peasy!
The most essential component of this cobot welding solution is how you can program it - If we can call this "programming".
Do More with The Only App-Based Cobot in The Market
The Cobot Welder is made to empower your welders to take advantage of robotic welding. There is no need to have a robotics degree or even experience with programming, thanks to its app-based interface. All you need to do to start using it is downloading the app to a phone or tablet. This way of teaching the robot was created with welders in mind. It deals with torch angles and weld settings. And not complicated coordinate systems or programming code.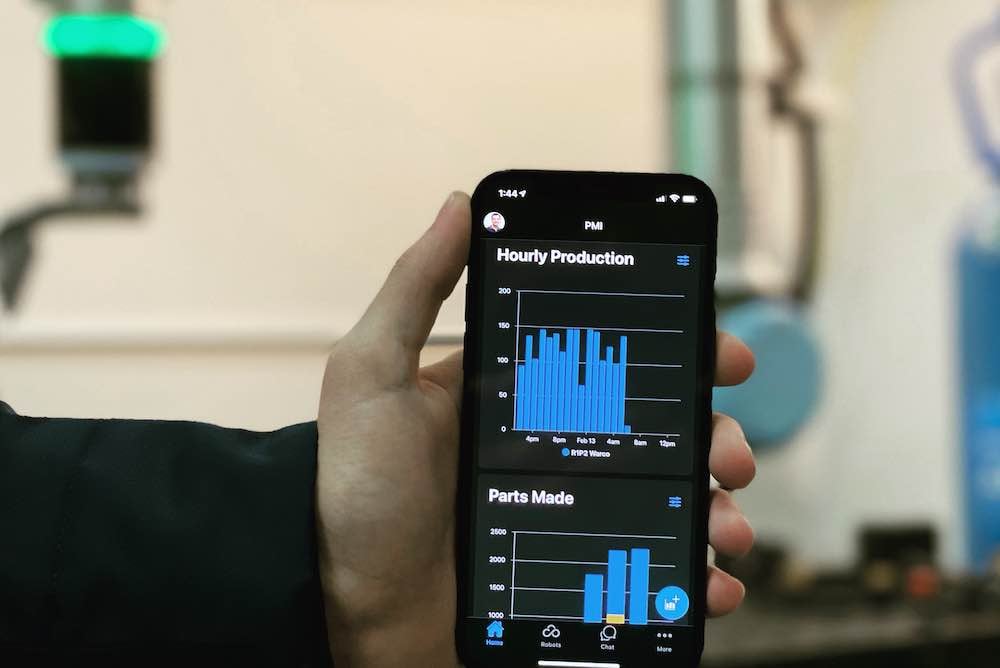 The app called Beacon runs on all platforms: the web, Android, or iOS. If you want to use it on a mobile device, you can go to the App Store or Play Store. Search for "Beacon" and download the app. If you want to access Beacon through the web, go to https://beacon.hirebotics.io. And best of all, it's free, forever.
Be In Control of Your Cobot Welder
As you read, the software Beacon powers the Cobot Welder. With this, you can easily configure real-time alerts on the software. No matter where you are, you will be able to receive real-time alerts when a job is done or when the Cobot Welder needs your attention. Also, You can get notifications if your cobot goes on a protective or emergency stop. In brief, You can easily configure which type of alerts you want to receive.
Don't Go Blind: Make Better Quotes with Real-Time Data
The Cobot welder provides you with real-time data like precise cycle times and consumable usage. This information is handy when you are quoting a new job. You no longer have to make wild guesses about the numbers. Providing a precise lead time can impress clients and can lead to repeat orders in the future.
How the Cobot Welder simplifies the job quoting process
In addition to this, you can create impressive charts using custom data in no time. You can view these real-time charts on the web or your mobile device.
The Cobot Welder in the Real World
It's all well and good that you've been reading about what cobots are and their benefits. But how does the Cobot Welder stack up in the real world? And how easy is it to operate?
Three experienced welders from small-medium welding companies tried the Cobot Welder for the first time: Adam Yutzy from PWI Inc, Thomas Tillotson from Alphidia Inc, and Kyle Gaynor from Athena Manufacturing Inc.
These men are experienced welders. But they have little to no experience programming a robot before other than playing online games on their phones. Within the first 20 minutes of the demonstration, these men were able to program and work the Cobot Welder by themselves.
"The robots that we have now, you need an associate's degree to operate that kind of equipment. But this is simple. We don't need a robotics programmer to program the machine".
This statement sums up how experienced welders see the Cobot Welder. It's easy to use, understand and deploy.