Real-Life Success with Welding Cobots: Siouxland Fabricating Inc
by Rob Goldiez, on Sep 23, 2021 8:30:00 AM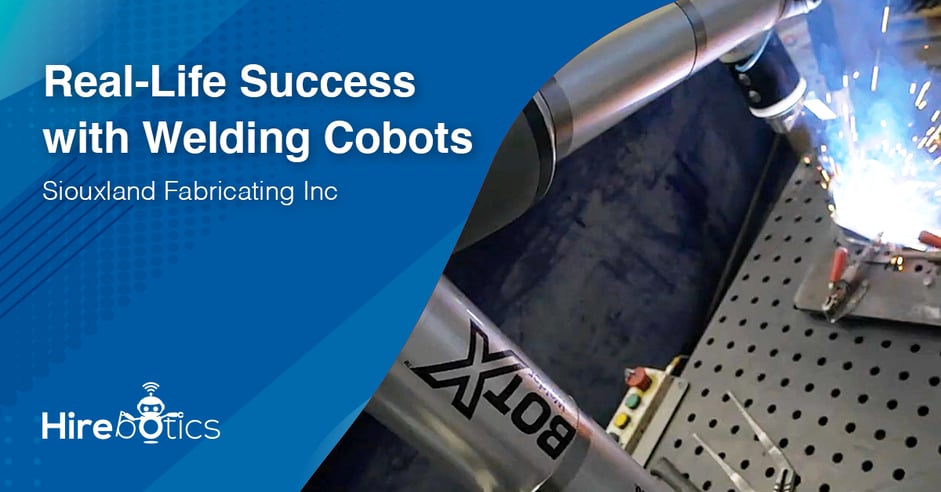 Action speaks louder than words. We're always talking about how robotic welding through cobots helped the welding industry address the welder shortage. You've heard of the many different benefits of using a welding robot. But now, let's see the Cobot in action in the real world. Let's look at a real-life story on how cobots affected the Siouxland Fabricating company based in the USA.
Welding Cobots, A Quick Review
Before we begin the story, let's do a quick review of what a welding cobot is. A welding cobot is a welding robotic arm that's built to do weld work alongside humans. This safety feature is why it doesn't need caging or be isolated. It's easily programmable - some like the Hirebotics Cobot Welder are taught simply through a phone app. Cobots can be deployed and redeployed to do several tasks on the production floor. It works great for welding companies that have low volume/high mix productions.
What is Siouxland Fabrication And What Were Their Challenges
Siouxland Fabricating Inc. is a fabrication company providing custom fabrication services. This includes cutting, bending, assembly, and welding, from its facility in the small town of Rock Valley, Iowa.
There was a time the company had problems with finding skilled welders to keep up with their fabrication orders. It came to a point where they had to reject orders because they couldn't keep up with the demand. The company decided to augment its long-term problem of finding skilled workers by automating their welding and stamping processes. Siouxland Fabricating is experienced with traditional robots. They had a few of them in their facility. Unfortunately, these robots were too complex and not to mention expensive. The company did research and decided to turn to collaborative robots.
What Type of Collaborative Robot Did The Company First Get And for What?
Siouxland decided to automate its stamping process first. There were many choices in the market, but in the end, they chose the UR10 cobot. The UR10 is a cobot that delivers a high payload ( 12.5kg) lift. It has a long reach of 1300mm. They used this robot for machine tending, palletizing, and packaging.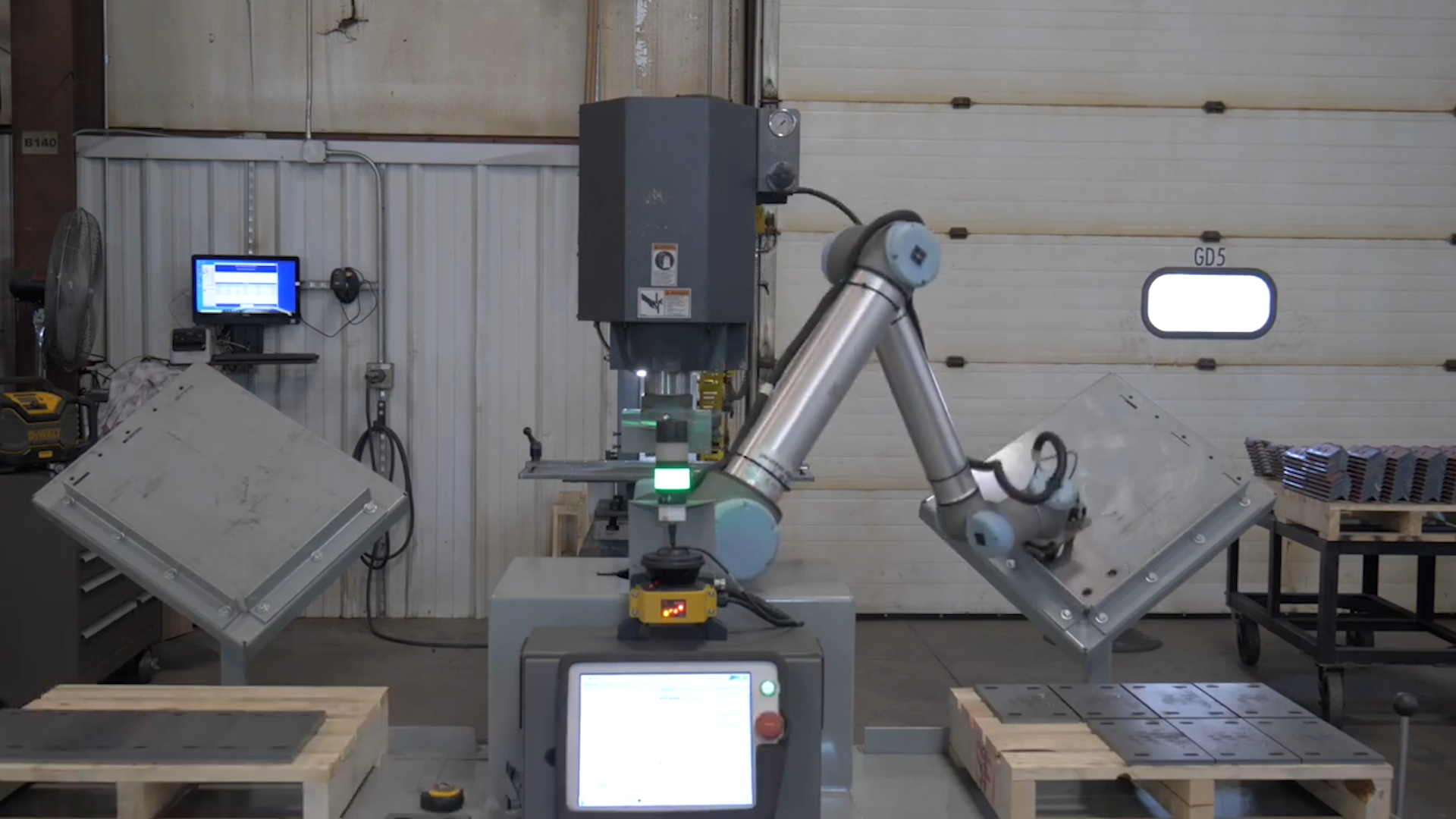 They used the robot in their stamping process. The Cobot picks it apart, then places it in a stamping machine. After which, it palletizes the finished part.
First, it was Stamping, Next Stop Welding
Siouxland Fabrication was so impressed with the UR10 Cobot's performance in its stamping process. Now they wanted to know if there's a cobot that can weld too.
But Toby Boogerd, Chief Technical Officer at Siouxland, was very specific about his requirements.
"Traditional welding robots require a lot of fixturing, programming, and a lot of tweaking between our robotic programmer and our welder. And it also takes a lot of floor space. We were looking for something simple that we could quickly integrate into the shop and start making parts," says Toby Boogerd, Chief Technical Officer (CTO) at Siouxland Fabricating.
He also noted that the price of traditional welding robots was also a significant obstacle. He said Siouxland Fabricating wanted welders to spend more time welding and putting parts together and less time laying beads. "We wanted the robot to mimic what a hand-welder was capable of doing, from circular welds to butt joints."
Toby did his homework, and he researched many robotic solutions until he found the answer in the upgraded model of the robot that his company already had - the UR10. The upgraded version of the UR10 is the UR10e.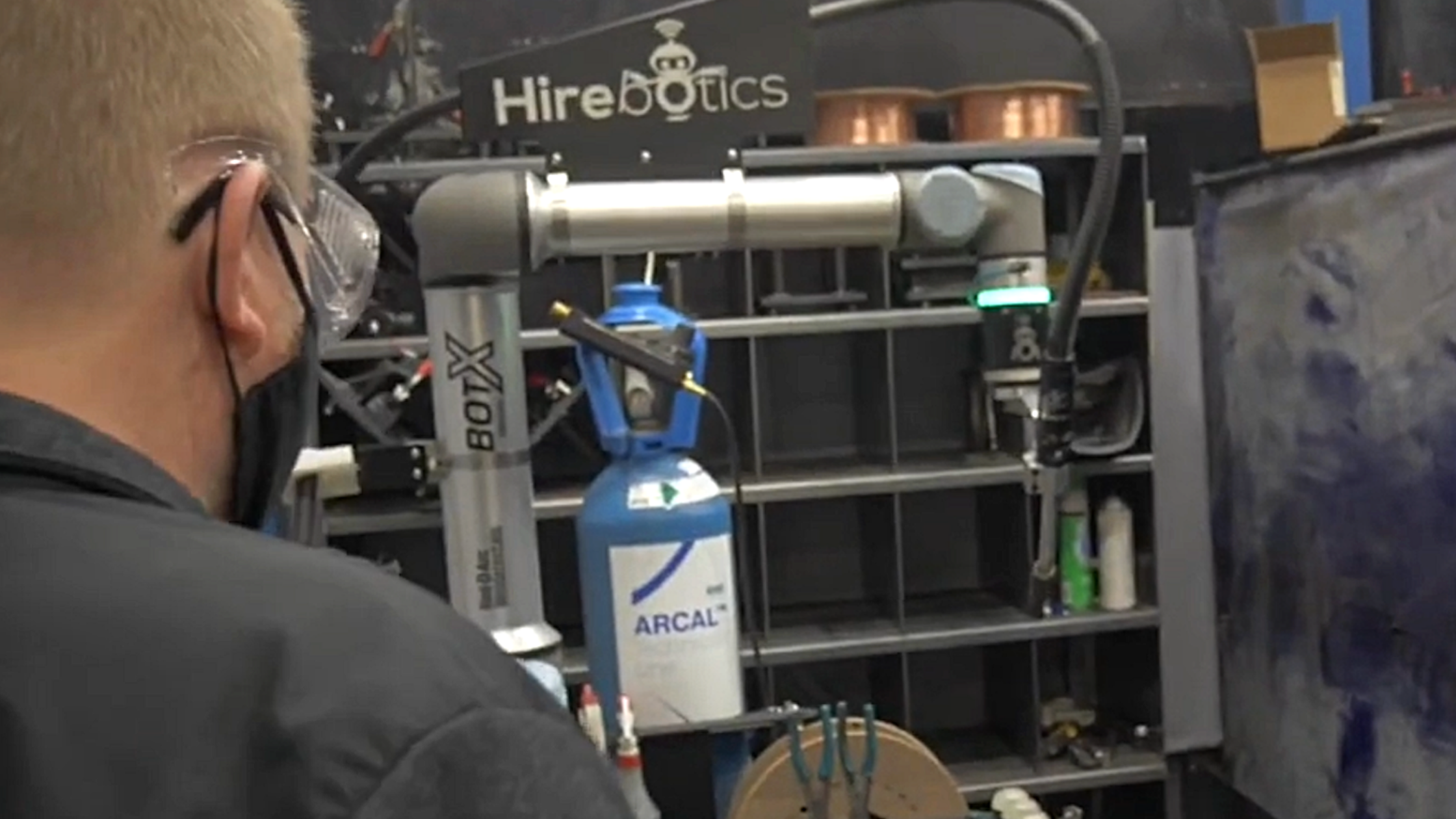 After much deliberation, they chose to go with the UR10e powered Botx Welder. The Botx was developed by Hirebotics and their partners Red-D-Arc, Arigas, and Air Liquide. He was impressed with the Cobot's mobility, ease of use, and programming features.
Soon after the Cobot arrived, welders on the floor were programming it using a combination of the Hirebotics smartphone app and the SmartPuck hand-gliding technology. You can say that after getting the cobot welder, they welded happily ever after.
Why Did Siouxland Choose the Botx?
Many robot welders are out in the market, but why did Siouxland choose the UR10e Botx by Hirebotics?
Let's look at the reasons as narrated by Siouxland CEO Toby Boogerd.
The ability of the robot to work alongside humans
"We didn't want the extra hassle, and because floor space is so precious to us. We tried to find a solution that we could move around the shop without having to deal with the complexities of safety fencing."
Cobots are built to work alongside humans. They can be programmed to work within a specific workspace. They also have sensors that tell them that there is a human nearby. For these reasons, there is no need to do safeguarding ( safety assessment) - something essential to traditional robots.
Faster Return Of Investment (ROI)
"Compared to the traditional robots where you're easily $100,000 to start with. By the time we talk with salesmen, travel somewhere to look at the machines, get the machine at the building, the costs might even add up to $200,000 to $300,000."
Cobots can have a faster ROI than traditional robots because they cost less. They are also easier to program and deploy faster. More rapid deployment means lesser downtime and more work done.
Ease of Programming
"One of Hirebotics' main strong points for me is their smartphone application. It just makes sense. When you move the robot, you hit a button on the robot, and it saves that spot."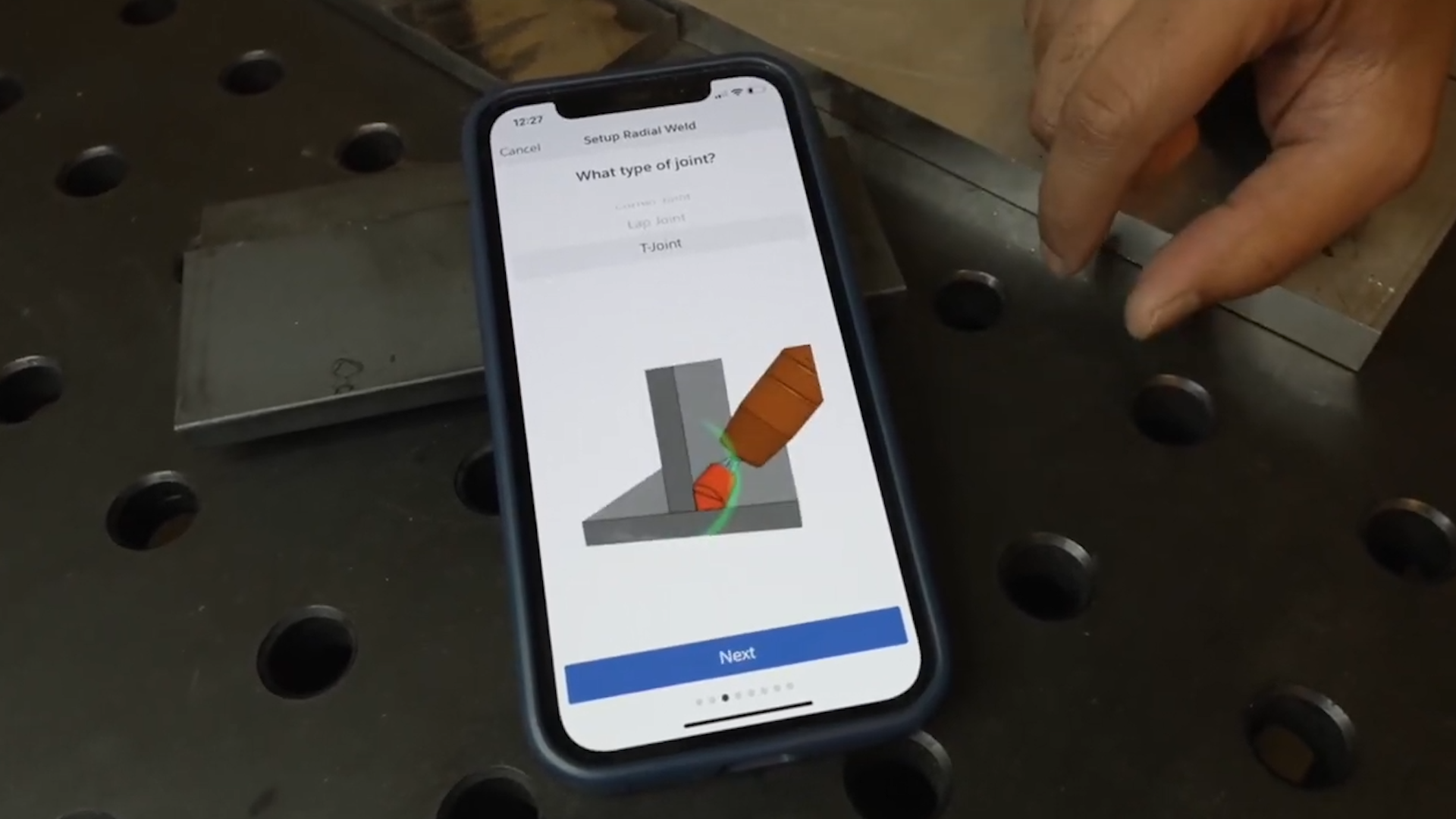 Cobots like the Botx UR10e are easy to "program" if you can even call it as such. All you need to do is download an app to your phone, or you can teach it using its three-touch pendant.
How did the Welding Cobot Deployment Affect the Company?
When the company used Botx, did it have any positive effect on the company? The good news is, it did! Let's discuss some of the benefits the Cobot brought to the company.
With the Cobots, they cut cycle weld time in half, and the consumable consumption was reduced
Because of the ease of use of cobots, the welders became more confident in using the advanced features of the Cobot. Instead of doing two or three passes, the welders in Siouxland could use the robot's weaving feature. With this, they cut the cycle time in half. In doing so, they could save on the consumables because they were not using extra gas and beads.
Weld Robot Supervisor Van DeKamp says: "That was awesome. I now pulse and weave on probably seven different programs, which has helped dramatically. I have also taken the advanced welds I have learned on the UR robot and put them on our traditional robots too."
Programming was transferred from robot programmers to welders on the floor
"There's literally like three buttons you've got to know on BotX," "Our traditional robots take a lot longer to program. You can get a part, and BotX takes 15 minutes to program, whereas, on another machine, it would take a couple of hours. I can program it, set the schedules, make sure the part's good, and run it myself. BotX turned me into a programmer." says Dan DeMeester, Siouxland's Maintenance and Welding Supervisor.
The ease of use of the Cobot took away the initial 'nervousness' of the welders of programming and using it. Once they realized it was easy to program and use, they became more confident in their skills in using the robot.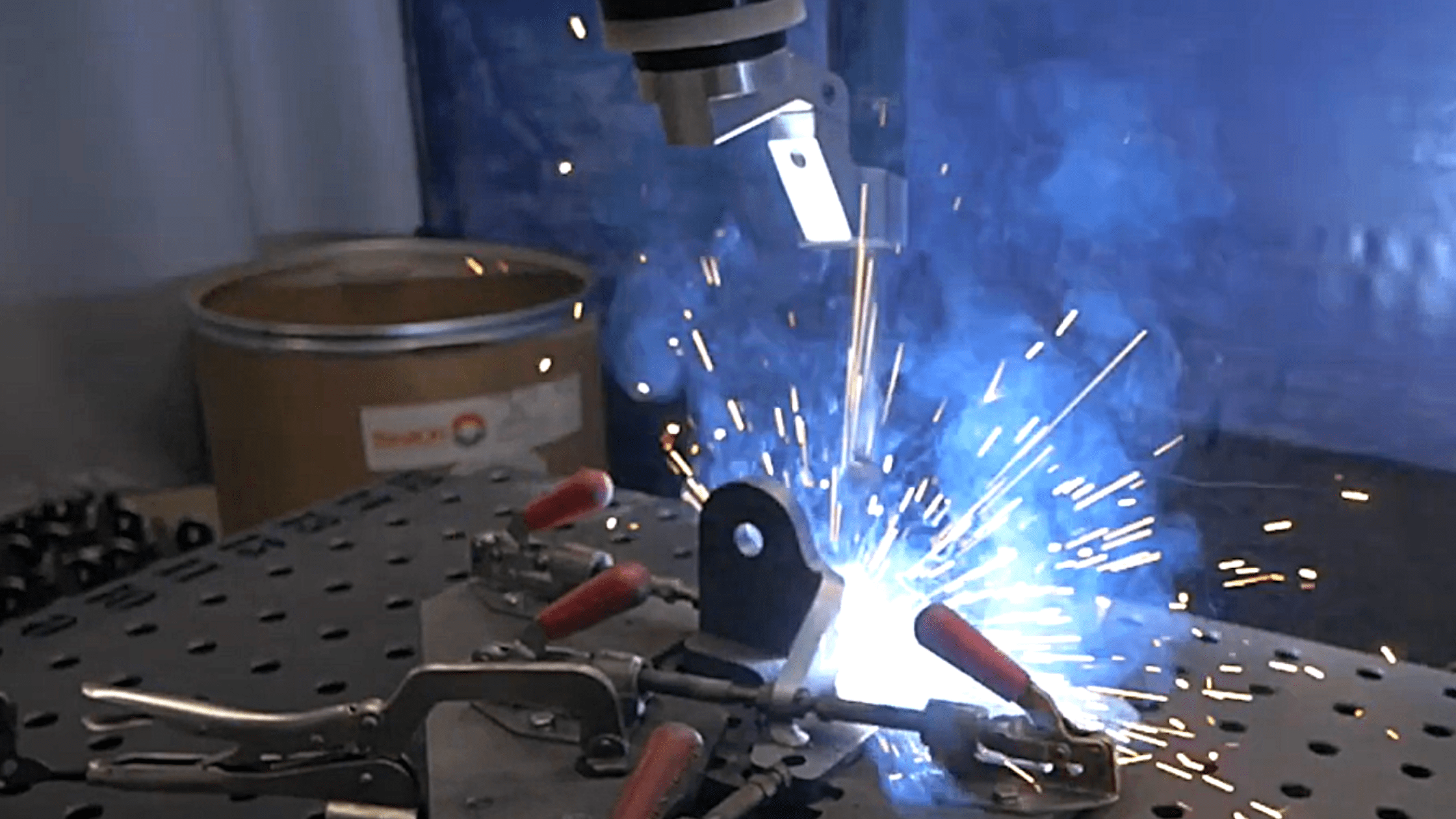 It empowered the welders to take charge of the programming and benefited the companies two-fold. One is zero downtime taken by programming in production. The Botx, with its app-based learning, can be programmed in no more than 20 minutes.
Number two is economics. Having the welders program, the Cobot saves money on programmers. This money saved can go to other areas of the business.
So how easy is it to weld on the Cobot? Tony Boogerd, CTO of Siouxland, sums it up when he said, "I can weld on the UR robot too, even though I can't hand-weld."
The Cobot Frees Up Manual Welders Time
Cobots are not there to replace humans. They are deployed to free up monotonous and sometimes dangerous jobs so that humans can move on to do more value-driven tasks.
In Siouxland, the BotX welder freed up their workers' valuable time. They went to do more ergonomic, high-value-driven tasks like fabricating and tacking while the robot laid the bead.
"In the end, you see more production going out the door because I can have the robot working without an operator having to babysit it," says Boogerd.
Are you ready to be the next success story?
The story of Siouxland Fabricating company is just one of the many success stories of welding robots in the form of cobots deployed in welding. The following question is important:
Is your company ready to be the next success story?
Contact us

for a demo!