Section 179 Will Make You Expense 100% of Your Welding Robot
by Rob Goldiez, on Dec 1, 2021 8:00:00 AM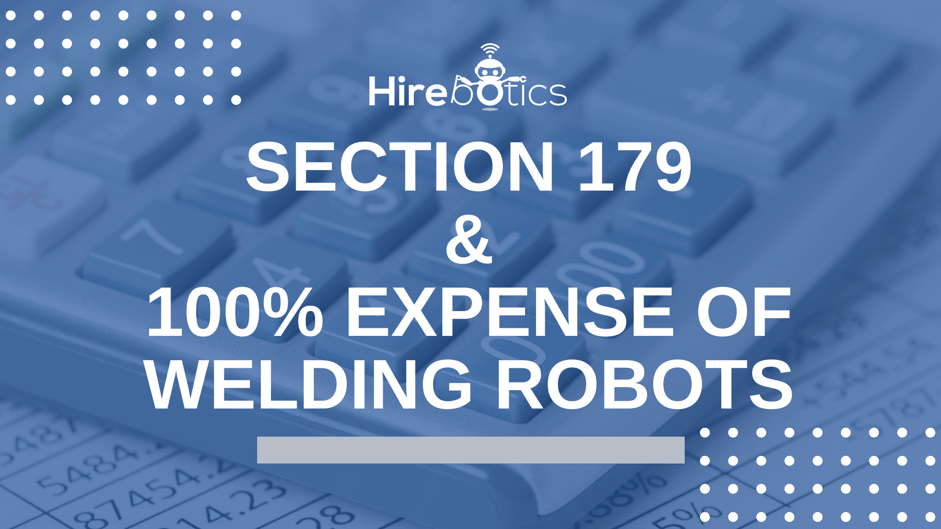 Adding a robot to your medium-sized welding business can be an excellent solution to the welder shortage you are currently experiencing. In addition to automating your welding business, it's also an excellent way to boost your production and lower your scrap costs. These are just some of the benefits of having a robot on your team.
However, if you find yourself hesitating to purchase one because of the price, Tax Section 179 can be the answer.
What is section 179 in the tax code? What equipment qualifies, and are robots included?
Let's find out.
What is Section 179?
Section 179, at its core, is a tax break offered by the US Government to small to medium businesses as an incentive to buy equipment and invest in their company. It allows them to deduct the total purchase price of qualifying equipment and software financed or purchased during the tax year. This means if you purchase or lease qualifying equipment, you can deduct the FULL PURCHASE price from your gross income when tax season comes.
However, there are limits to section 179. Below are a few essential details to remember.
The cap for the total amount you can write off for 2021 is $1,050,000. This amount changes yearly so be sure to check the IRS website or your accountant.
The limit to the total amount of equipment purchased or leased is $ 2,620,000.
The deduction begins to phase out on a dollar-to-dollar basis after $2,620,000 is spent by a business. This phasing out means the entire deduction goes away once you reach $3,670,000 in purchases.
The clauses for section 179 are constantly changing without notice, so make sure to check the IRS website or ask your tax advisor.
Bonus depreciation is offered this 2021 at 100%. The amount for bonus depreciation changes every year.
Do Robotics & Automation Qualify for Section 179?
So at this point, we know section 179 is a tax break, and there are many qualified types of equipment and software eligible for tax breaks under this section. However, the big question is: Is a robot qualified for a tax deduction?
The answer is YES!
Robots and their accessories can qualify for the Section 179 deduction if the below requirements are met:
The robot is leased or purchased. It can be a used robot (but new to you).
Your welding business must use the robot in the year you take the deduction. For example, you purchased a robot early this year. It must be deployed and put to work before the end of 2021.
You have to buy it from a non-related party. This clause means you can't purchase the robot from your parents, grandparents, descendants, trusts, or charitable organizations with which you have a relationship.
Your welding business cash flow must be positive and not at a loss to qualify for 179 cash savings.
---
Need a welding robot solution? Why not have your welders be trained on the system BEFORE buying it? Learn more here!
---
How Much Can You Save from a Robot Purchase with Section 179?
Section 179 can give you significant savings in your equipment costs. If you want to know how much tax savings you can claim, you can use a section 179 calculator. We highly recommend this one as it reflects Section 179 limits and any amendments or bonus depreciation.

Using this calculator, let's use a sample computation. Say, for example, you bought a robot that costs $100,000—assuming that your company has a 35% tax bracket. Your total first-year deduction is $100,000, and the cash savings on your purchase is $35,000. That's $ 35,000 saved on a robot that you need!

You Still Have Time to Avail of Section 179 For Your Robot
There are plenty of robotic solutions for you to choose from in the market. In the welding industry, the Cobot Welder from Hirebotics is an example. Now is the time to consider the automation project you have been thinking about!