What is Seam Tracking and How Welding Cobots Don't Require It
by Matt Bush, on May 5, 2022 8:00:00 AM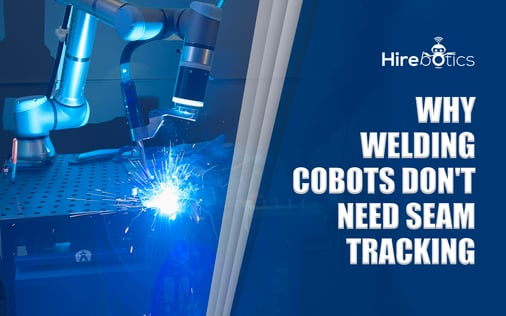 Welding technology has come a long way over the last two decades. Today, automated welding robots toil away on the production lines of large industrial manufacturers and small volume machine shops alike. However, maintaining the accuracy of these machine-controlled systems can depend on welding seam tracking that uses sensing technology to engage the follow the weld joint and automate the weld operation.
Perfectly welding a joint is a skill that takes years of training by professional welders to perfect. Automating this function is possible, but you'll need to evaluate the different approaches, methodologies, and associated technologies before committing to a solution. To help you grapple with the latest capabilities, here's everything you need to know about welding seam tracking.
What is Welding Seam Tracking?
Seam tracking or weld joint tracking uses an automated system that provides real-time sensing and adaptive control while executing a robotic welding operation. Different solutions are available on the market that enable automated welding operations to track the welding seam in real-time and control the process using 3D lasers, cameras, slides, controllers, and teach pendants.
Choosing the right technology depends on your current welding workflow requirements, as these systems can control the voltage, travel speed, wire feed, and weld bead formation.
Different Types of Welding Seam Tracking Solutions
Seam tracking systems vary between suppliers and integrators but use the same base technologies to achieve the required control function. Vision and sensing solutions provide high-quality, industrially proven seam tracking, welding inspection, and precise process control in a single operation.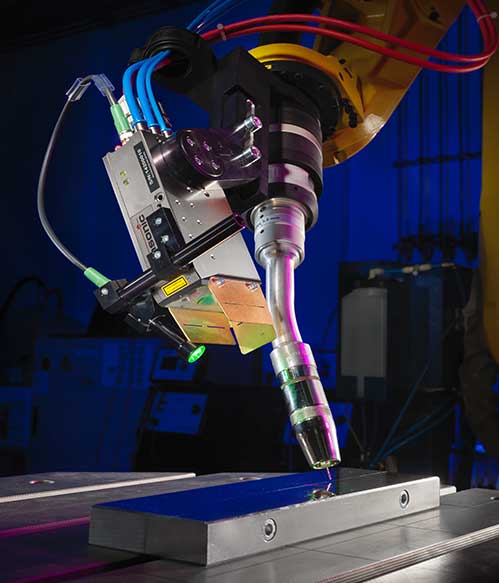 (source: Binzel Abicor)
The different welding seam tracking technologies are:
Touch Sensing
Through Arc Seam Tracking
Tactile Seam Tracking
2D Vision Systems
3D Laser Seam Tracking
Weld Seam Tracking is a Complex Process!
Automating the tracking of weld seam in a robotic process isn't easy. Each workpiece, fixture, and welding system needs to operate in conjunction to maintain the integrity of every joint. In addition, adopting these solutions adds complexity to the operation, requiring extensive engineering to perfect.
Implementing these solutions will require:
Extensive programming of the system that will require skilled employees
Increased lead times when taking on new jobs to ensure the automation works according to the specification
Welding programmers who aren't easy to find, meaning the job will often cost more, especially in high-mix, low volume runs.
For those reasons, you should look at automating your welding operations without weld seam tracking systems. With a good fixture design or repeatable jigs, you can remove the need for adding complex technologies to your weld cells.
What is a Welding Cobot?
Welding cobots are redefining the capabilities available to SMEs that deal with high-mix, low-volume orders. It provides consistent, repeatable results by combining easy programming, accurate execution, and proven reliability.
Welding cobots let you set up the weld operation, oversee the process, and interact with the work cell. Cobot welding systems do not need weld seam tracking to weld your part repeatably and provide great ROI. In fact, not needing through arc seam tracking with your cobot helps to reduce complexity and decrease the cost of ownership of the welding cell.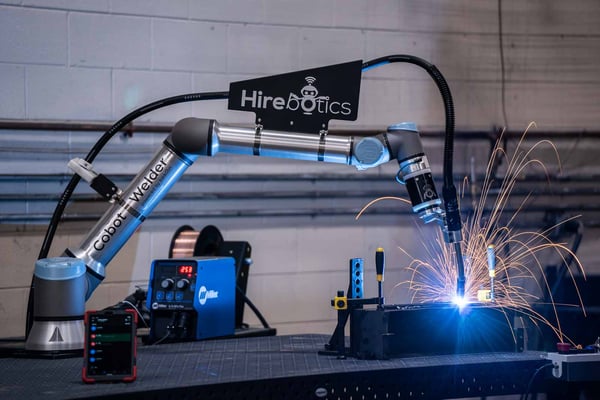 Welding cobots are generally easier to program than traditional welding robots, allowing you to get into production quickly without relying on complex programming skills. These welding cobot tools will enable you to empower your welders to operate them without previous robotics knowledge. They are great solutions to fill your need for welders.
So deciding to add complexity to the system would then defeat the goal of automating with simple-to-use solutions.
How Welding Cobots Do Not Need Seam Tracking
When looking to add automation to welding operations, collaborative welding robots do not need expensive, complex weld seam tracking solutions to produce quality welds.
Here are a few reasons why welding cobots don't need seam tracking technologies:
The complexity and need for high programming skilled workers defeat the goal of a welding cobot in the first place, which is to leverage the welders you already have to teach the new robot.


The time to implement and program these technologies is long and costly. They keep the manufacturer from starting the production sooner and get faster ROI. Moreover, automated sensing and weld seam tracking systems increase cycle times by three to five seconds for each sensing operation.


Simplifying the welding cell with repeatable jigs removes the need for advanced technologies. With precise fixture designs and experienced welding staff, you can maximize your throughput and reduce cycle times for each welding workflow.


Moreover, some welding cobots come with cloud-connected notifications if the robot encounters an issue. This will help you monitor if the repeatability of your parts is a cause.


Lastly, suppose your parts have so much variability that the robot cannot follow the joints. In that case, you should evaluate your upstream production to fix the issue at the source instead of welding potentially scrap parts.
A welding cobot is already providing a simple solution to automate your welding operations and solve your need for extra welders. They only require the operator, which can be your welder, to set up the weld workflow once and only intervene if something goes wrong. To conclude, you don't need to add complex seam tracking technologies to get productivity and ROI from those cobots.
Why Welding Cobots Perform Better Without Welding Seam Tracking Systems
Welding seam tracking systems require complex technology and diligent maintenance. On the contrary, a welding cobot reduces the complexity of automation and keeps operators in control of each weld workflow. So, you won't need expensive programmers. Instead, you'll be able to start production quickly and empower your current welders to operate the robots. Then, with automated and repeatable results, you can increase your throughput, reduce your cycle times, and ensure consistent quality welds for each high-mix, low-volume job you accept.
For more details about our welding cobots and to discuss the repeatable results, they can bring WITHOUT adding complex technologies, get in touch with Hirebotics today.